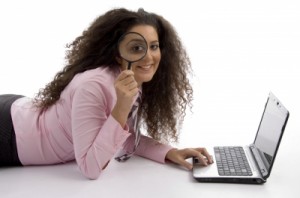 Gaining readers to your blogged book represents the keys to success. Whether you plan on self-publishing your blogged book or want to be discovered by an agent or publisher, you must have a successful blog–one with many unique visitors. (If you don't understand that term, read this post.) That's your author platform or fan base, which ensures that you sell lots of books. It's also what makes you and your blog attractive to traditional publishers. A blog with lots of readers, as I've mentioned before, is seen as a positive test marketing exercise in the eyes of a publisher. As a self-publisher, it's your proof that your book is viable as well.
So how do you gain readers? Let me count the ways…No really. One way to gain readers involves having your blog featured on another blog so the readers of that blog, which may have more readers than yours, can follow the link over to your site. If those readers like your blog, they may come back day after day, thus becoming regular readers.
To help you gain some extra readers, or unique visitors, I'd like to give you an opportunity to share your blogged books here on my blog. To do so, I've created a list to which you can add your blogged book. I've started the list with two books being blogged by Brian Cormack Carr. He mentioned that he was inspired to blog not one but two books after reading my book. Here's the list:
Blogged Books
Blogged Books
crowd rank
curated
alpha
newest
queue
how to find or create your dream job

Olympics blasted for giving vast adverts to fast food joints. That's their legacy - but what will yours be? Fake foods - or the real thing?

Added by Amanda Socci on Aug 14, 2012

"A Slice to Faith" is a new blog that recounts dramatic moments from the author's life and offers positive reflections on how faith helped the author move on.

Added by Jenny Parbery on Aug 18, 2012

I have decided to write a memoir. I have taken myself on some fantastic journeys that I really wanted to write about. However, when I tried to start the only place that seemed logical was the sexual abuse I suffered as a child. Don't worry, I move on.

Added by DoWhatYouLoveJourney on Aug 19, 2012

Do What You Love with the help of a tested 28-day program. Find out what you really love and start living your dream lifestyle from now on. Blogged book by Mary Eve Boudreault, sociologist and author of Do What You Love Journey website. Starting doing what we love under a month is amazingly possible; this book, the 1st draft written in a month with the Write Non-Fiction Month challenge, is a sure proof of it. Enjoy!

Added by Jenn Shallvey on Aug 19, 2012

You are invited to join me as I unveil and reveal 11 magical sets of words that will inspire you to create a life of love, happiness and well-being.

Added by Jillian Godsil on Aug 20, 2012

Jillian Godsil became divorced. Her ex husband became bankrupt and she was left with a million euro mortgage on a house worth half that. This is her story about being in the middle.

Added by Adam Michael Luebke on Aug 20, 2012

My autobiographical novel Orgasmo chronicles my disastrous attempt to quit writing forever and pursue the American Dream.

Added by Tien Chiu on Sep 01, 2012

Are you one of those crafters who would like to move into original work, but weren't sure how? This book offers a creative process to start you off, with hints and tips on designing your own projects. Written by award-winning fiber artist Tien Chiu.

Added by Frances Pauli on Sep 06, 2012

Book two in the Space Slugs series is currently being blogged. Book one was also a blog serial and can be found in the blog tabs. ;)
Please add only blogged books in progress! But please do add your blogged books! And, of course, share this post on all your social networks (again and again and again) so you and other blogged book authors gain more exposure–and readers–for your blogged books.
Photo courtesy of imagerymajestic.